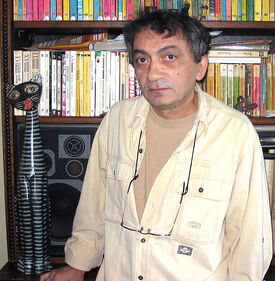 Ștefan Agopian
(b. 16 June 1947, Bucharest) is a Romanian novelist, short story writer and playwright. He is considered one of the most original contemporary writers; his works have been subsequently associated with
magic realism
,
mannerism
and
postmodernism
, but still defy easy categorization. He was among the 12 Romanian writers who were selected for the 2005 project
Les Belles Etrangerès
.
His first texts are published in the magazine Luceafărul, in 1970, the same year in which he would meet his closest friend, the poet and painter Valeriu Pantazi. Even though his debut volume, Ziua mâniei (1979), was panned by Eugen Simion, his following novel, Tache de catifea (1981), achieved critical success and was reviewed more than 30 times at the time. In recent years, Polirom has reissued most of his works.
He is currently an editor of Cațavencii (formerly known as Academia Cațavencu), in which he writes articles under the tagline Scriitor în comunism ("Being a Writer During Communism"). He was also a collaborator of 24-FUN.
Ad blocker interference detected!
Wikia is a free-to-use site that makes money from advertising. We have a modified experience for viewers using ad blockers

Wikia is not accessible if you've made further modifications. Remove the custom ad blocker rule(s) and the page will load as expected.