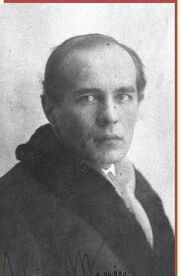 Adrian Maniu
(b. 6 February 1891, Bucharest - d. 20 April 1968, Bucharest) was a Romanian poet, playwright and academician, brother of Rodica Maniu (known as the wife of acclaimed painter Samuel Mützner). He was initially associated with the last wave of
symbolism
and the proto-
avantgarde
, but gained popularity after switching to a variation of
traditionalism
(that was sometimes described as "
expressionist
" or even
"mannerist
"). He published poems in both late symbolist revues such as
Insula
and late traditionalist magazines such as
Gândirea
. Even though he entered literary history especially because of his traditionalist output, he has been discussed lately through the prism of early writings such as the anti-play
Salomeea
(1915), an iconic example of the deconstruction of
symbolism
that preceded
Dada
.