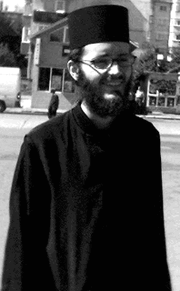 Adrian Urmanov
(pen name of
Leonard-Daniel Aldea
/
Părintele Serafim
; b. 2 Octomber 1979, Ploiești) is a contemporary Romanian poet, considered an important figure of the 2000s generation and the founder of the movement called
Utilitarism
. He published 4 volumes of poetry:
cărnurile cannonice
(2001),
poeme utilitare
(2003), schelet (2004) and
sushi
(2005) - first three bundled in the anthology
literatura de consum
(2005). He has also appeared in the anthology
Generația 2000
(
Marin Mincu
, 2004) and several other anthologies in English. In 2004 he became a Christian Orthodox monk, but has continued to write and sometimes publish; thanks to a Master in Creative Writing done in Warwick, UK, he has done at the
Râșca
monastery a series of creative writing lessons frequented by
Diana Geacăr
,
Hose Pablo
,
Livia Roșca
,
Andra Rotaru
,
Gabi Eftimie
,
Cosmina Moroșan
and several other poets who were edited in the two anthologies
literatură potențială
("potential literature").
Ad blocker interference detected!
Wikia is a free-to-use site that makes money from advertising. We have a modified experience for viewers using ad blockers

Wikia is not accessible if you've made further modifications. Remove the custom ad blocker rule(s) and the page will load as expected.