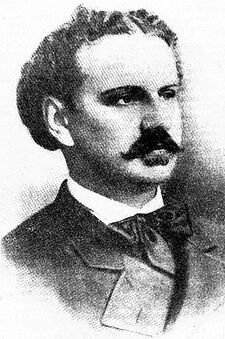 Alexandru Ioan Odobescu
(Romanian pronunciation: [alekˈsandru odoˈbesku]; 23 June 1834 – 10 November 1895) was a Romanian author, translator, archaeologist and politician. He is appreciated for his historical novellas (
Mihnea Vodă cel Rău
and
Doamna Chiajna
) and especially for
Pseudokynegeticos sau Fals tratat de vânătoare
, a hard-to-classify book (considered by some to be of "essays") that was retained by
G. Călinescu
in his literary history and, more recently, has been appreciated by
Nicolae Manolescu
.
He was born in Bucharest, the second child of General Ioan Odobescu and his wife Ecaterina. After attending Saint Sava College and, from 1850, a Paris lycée, he took the baccalauréat in 1853 and studied literature and archaeology at the University of Paris, graduating two years later. In 1858, he married Pavel Kiselyov's daughter Alexandra (Saşa) Prejbeanu; they had one daughter, Ioana. He was often apart from his wife and had affairs with other women. Odobescu served as cabinet minister for religion and education in 1863, as head clerk at the Ministry of Foreign Affairs in 1865, and as prosecutor at the Court of Appeal. In 1870, he travelled in Switzerland and Italy, in connection with his discovery and description of the Pietroasele treasure, a collection of objects made from precious metals, of Gothic origin, found on Romanian territory; he also travelled to several other countries, including Denmark, Russia and Turkey. He opposed the tendency toward artificially Latinizing the literary Romanian language. He was elected to the Romanian Academy in 1870 and was professor of archaeology at the University of Bucharest from 1874, the year he was named chairman of the National Theatre Bucharest. He served as secretary of the Romanian legation at Paris in 1882, was principal of a teacher-training institute in Bucharest, and principal of the National Educational Institute in 1892. Poor, sick with gout, separated from his wife and daughter, around 1891, he fell passionately in love with Hortensia Racoviţă, a geography professor thirty years his junior. She rejected a marriage proposal made by Odobescu's wife, and he committed suicide by morphine overdose in Bucharest in 1895.
Ad blocker interference detected!
Wikia is a free-to-use site that makes money from advertising. We have a modified experience for viewers using ad blockers

Wikia is not accessible if you've made further modifications. Remove the custom ad blocker rule(s) and the page will load as expected.