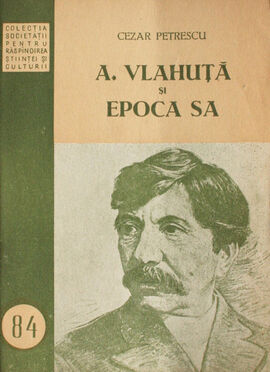 Alexandru Vlahuţă
(Romanian pronunciation: [alekˈsandru vlaˈhut͡sə]; September 5, 1858 – November 19, 1919) was a Romanian writer. His best known work is
România pitorească
, an overview of Romania's landscape in the form of a travelogue. He was also the main editor of
Sămănătorul
magazine, alongside
George Coşbuc
. Vlahuţă was born in Pleşeşti, Vaslui County, Romania (currently called Alexandru Vlahuţă) and studied in Bârlad during his early childhood. He took his Baccalaureate in Bucharest and afterwards attended law school for a short amount of time, but withdrew due to financial reasons. He died in Bucharest on November 19, 1919. His former home in Bucharest has been turned into a memorial museum.
Ad blocker interference detected!
Wikia is a free-to-use site that makes money from advertising. We have a modified experience for viewers using ad blockers

Wikia is not accessible if you've made further modifications. Remove the custom ad blocker rule(s) and the page will load as expected.