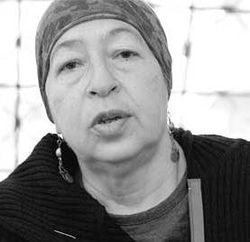 Angela Marinescu
 (born Basaraba-Angela Marcovici on 8 July 1941 in Arad) is a contemporary Romanian poet. After her early
neo-expressionist
volumes, she has achieved in the 1980s and especially after 1989 critical acclaim with volumes such as
Blindajul final
(The Final Armour, 1981) in a style that has been described as "
visceral
", "
confessional
" and "radical". Contemporary female poets influenced by Angela Marinescu include
Rodica Draghincescu
,
Saviana Stănescu
,
Elena Vlădăreanu
,
Miruna Vlada
,
Oana Cătălina Ninu
,
Crista Bilciu
and others. In September 2006 she was awarded the National Poetry Award Mihai Eminescu Opera Omnia.
Ad blocker interference detected!
Wikia is a free-to-use site that makes money from advertising. We have a modified experience for viewers using ad blockers

Wikia is not accessible if you've made further modifications. Remove the custom ad blocker rule(s) and the page will load as expected.