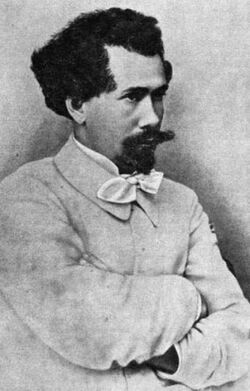 Barbu Ştefănescu Delavrancea
(Romanian pronunciation:
[ˈbarbu ʃtefəˈnesku delaˈvrant͡ʃe̯a]
; 11 April 1858, Bucharest–29 April 1918, Iași) was a Romanian novelist, short story writer,playwright, poet, orator, politician and academician. He is the father of writer and pianist
Cella Delavrancea
and of architect Henrieta Delavrancea (one of the first women architects in Romania). His most well-known works are the historic play
Apus de soare
(1909) and the fairytale Neghiniță.
Ad blocker interference detected!
Wikia is a free-to-use site that makes money from advertising. We have a modified experience for viewers using ad blockers

Wikia is not accessible if you've made further modifications. Remove the custom ad blocker rule(s) and the page will load as expected.