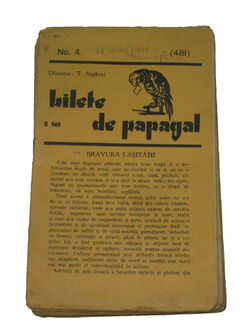 Bilete de papagal
(
Parrot Tickets
) was a Romanian left-wing publication edited by
Tudor Arghezi
, begun as a daily newspaper and soon after issued as a weekly satirical and especially literary magazine. It was published in three different intervals: 1928-1930, 1937-1938, 1944-1945.
The magazine published many important writers of the period, some of them at debut: Urmuz, Geo Bogza, George Topîrceanu, Otilia Cazimir, Virgil Teodorescu, Constantin Nisipeanu, Ion Biberi, Virgil Gheorghiu, Cella Delavrancea, Laurențiu Fulga, Maria Banuș, Emil Botta etc.
Ad blocker interference detected!
Wikia is a free-to-use site that makes money from advertising. We have a modified experience for viewers using ad blockers

Wikia is not accessible if you've made further modifications. Remove the custom ad blocker rule(s) and the page will load as expected.