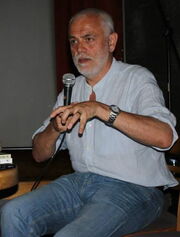 Bogdan Ghiu
(born
Bogdan Victor Ghiu
on 5 July 1958, Bucharest) is a contemporary Romanian poet, essayist and translator associated in the
1980's
with
Cenaclul de luni
and
textualism
. His debut volume,
Manualul autorului
("Author's Manual"), was released only in 1989, but poems from this volume and not only had already appeared in the collective volumes
Cinci
(1982) and
Nouă poeți
(1984). He is currently known also for his numerous translations from contemporary French philosophy (Bataille, Foucault, Deleuze, Derrida, Bourdieu, Baudrillard etc.) and his activity as an editor of the magazine
Idea
.
Ad blocker interference detected!
Wikia is a free-to-use site that makes money from advertising. We have a modified experience for viewers using ad blockers

Wikia is not accessible if you've made further modifications. Remove the custom ad blocker rule(s) and the page will load as expected.