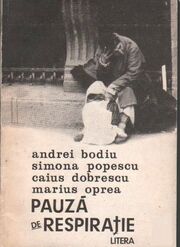 Brașov School
or
Brașov Group
(in Romanian:
Grupul/Școala de la Brașov
) was a literary group active especially in the late 1980's and early 1990's. Usually associated with this school are the co-authors of the volume
Pauză de respirație
. There were also other writers who frequented at the time
Cenaclul 19
.
Alexandru Mușina associated with this term all those who frequented the creative writing workshops held by him and other teachers of the Transilvania University in Brașov. Most of them were published at Mușina's publishing house, Aula (and received rather lukewarm reception from critics such as Paul Cernat)[1].
Writers associated with Brașov group/school
Edit
Other writers
Oana Tănase
Mihaela Bîja
Szilágyi Katalin
Ina Crudu
Anca Andriescu
Cristina Podoreanu
Mihail Tomulescu
Mihaela Murariu
Cătălina Ene
Cristina Pipoș
Răzvan-Ionuț Dobrică
Corina Nechita
Ad blocker interference detected!
Wikia is a free-to-use site that makes money from advertising. We have a modified experience for viewers using ad blockers

Wikia is not accessible if you've made further modifications. Remove the custom ad blocker rule(s) and the page will load as expected.