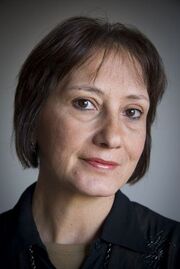 Carmen Firan
(born 29 November 1958, Craiova) is a Romanian poet, novelist, short story writer, journalist, and playwright, resident in New York.
She has published fifteen books of poetry, novels, essays and short stories. Her writings appear in translation in many literary magazines and in various anthologies in France, Israel, Sweden, Germany, Ireland, Poland, Canada, U K, and the U.S.
Her recent books and publications in the United States of America include: Rock and Dew (Sheep Meadow Press), Words and Flesh (Talisman Publishers), The Second Life (Columbia University Press), The Farce (Spuyten Duyvil Press), In The Most Beautiful Life (Umbrage Editions), and The First Moment After Death (Writers Club Press).
She is a member of PEN American Center and the Poetry Society of America and serves on the editorial boards of the international magazines, Lettre Internationale (Paris-Bucharest) and Interpoezia (New York). She is the co-editor of Naming the Nameless (An Anthology of Contemporary American Poetry), Stranger at Home, Poetry with an Accent, and Born in Utopia (An Anthology of Romanian Modern and Contemporary Poetry).
Ad blocker interference detected!
Wikia is a free-to-use site that makes money from advertising. We have a modified experience for viewers using ad blockers

Wikia is not accessible if you've made further modifications. Remove the custom ad blocker rule(s) and the page will load as expected.