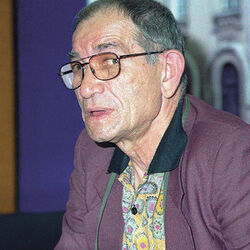 Cezar Ivănescu
(b. 6 August 1941, Bârlad - d. 24 April 2008, Bucharest) was a Romanian poet, playwright, translator and editor. Influenced by
Mihai Eminescu
,
George Bacovia
,
Lucian Blaga, Baudelaire
and medieval troubadours, he had a signature style that included the use of exclamation marks at both the beginning and the end of the poems, as well as leitmotif. His debut volume,
Rod
(1968), was noticed by Nicolae Manolescu, who wrote that: "When there will be in prose debuts as powerful as Cezar Ivănescu's
Rod
, we will be able to refer not to an evolution, but to an authentic revolution". In 1971 he organizes an orchestra called Baaad and starts making shows blending music and poetry. The poet would become one of
Marin Preda
's closest friends after the editor is impressed by the manuscript of
Rod III
.