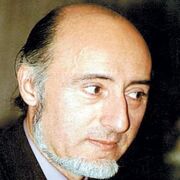 Constantin Abăluță
is a contemporary Romanian poet, novelist, essayist, critic, translator and painter. He has published over 40 books. Some of his poetry volumes worth mentioning are
Piatra
(The Stone, 1968), Unu (One, 1970), the anthology
Obiecte de tăcere
(Objects of Silence, 1979),
Drumul furnicilor
(The Path of Ants, 1997, second edition 2011),
Cârtița lui Pessoa
(Pessoa's Mole, 1999), the anthology
Totul despre nimic
(Everything About Nothing, 2011) etc. He is also the author of the anthology
Poezia română după proletcultism
(2000).
Ad blocker interference detected!
Wikia is a free-to-use site that makes money from advertising. We have a modified experience for viewers using ad blockers

Wikia is not accessible if you've made further modifications. Remove the custom ad blocker rule(s) and the page will load as expected.