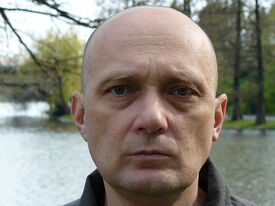 Daniel Bănulescu
(b. 31 August 1960, Bucharest) is a contemporary Romanian poet, novelist and playwright.
His debut was in 1981, in the magazine Amfiteatru. He frequented the literary circle Universitas led by Mircea Martin. He published a set of poems (Ziua în care am fost publicat) in 1987, in an extra of Convingeri comuniste (Coco). His official debut volume was the 1993 book Te voi iubi pân' la sfârșitul patului ("I Will Love You 'Til the End of the Bed").
His poems were translated in English, French, Slovenian, German and Serbian. He is a member of the Romanian Writers' Union.
Ad blocker interference detected!
Wikia is a free-to-use site that makes money from advertising. We have a modified experience for viewers using ad blockers

Wikia is not accessible if you've made further modifications. Remove the custom ad blocker rule(s) and the page will load as expected.