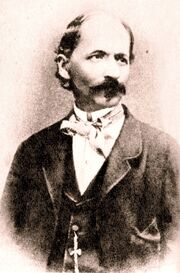 Dimitrie Bolintineanu
(14 January 1819 (1825 according to some sources), Bolintin-Vale – 20 August 1872, Bucharest) was a Romanian poet, novelist, diplomat, politician, and a participant in the revolution of 1848. He was of Macedonian Aromanian origins. His poems of nationalist overtone, fueled emotions during the unification of Wallachia and Moldavia. He is also the first exotic-themed poet in Florile Bosforului (Flowers of Bosfor), anticipating
Vasile Alecsandri
and an influence later on
Alexandru Macedonski
,
Leonid Dimov
,
Daniel Turcea
or
Mircea Cărtărescu
. His
romanticist
novels,
Manoil
and
Elena
, are among the first attempts in this genre in
Romanian literature
.
Ad blocker interference detected!
Wikia is a free-to-use site that makes money from advertising. We have a modified experience for viewers using ad blockers

Wikia is not accessible if you've made further modifications. Remove the custom ad blocker rule(s) and the page will load as expected.