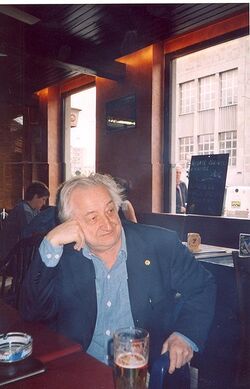 Dumitru Țepeneag
(also known under the pen names
Ed Pastenague
and
Dumitru Tsepeneag
; b. February 14, 1937, Bucharest) is a contemporary Romanian novelist, essayist, short story writer and translator, who currently resides in France. He was one of the founding members and the prime theoretician of
aesthetic oneirism
in Romanian literature; his prose books also contain early
textualist
elements, that after 1990 would be intertwined with elements of neo-realism. He was also noted for his activities as a dissident. In 1975, the Communist regime stripped him of his citizenship. He settled down in Paris, where he was a leading figure of the Romanian exile. In addition to his literary work, he is known for his independent left-wing views, which were influenced by Libertarian socialism and Anarchism. Ţepeneag is one of the most important Romanian translators of French literature, and has rendered into Romanian the works by New Left, avant-garde and Neo-Marxist authors such as Alain Robbe-Grillet, Robert Pinget, Albert Béguin, Jacques Derrida, and Alexandre Kojève. The founder of the magazine Cahiers de l'Est, he has also translated texts by Romanian poets into French — examples include
Leonid Dimov
,
Daniel Turcea
,
Ion Mureșan
,
Marta Petreu
,
Emil Brumaru
,
Mircea Ivănescu
. His wife, Mona Țepeneag, is herself a translator and essayist.
Ad blocker interference detected!
Wikia is a free-to-use site that makes money from advertising. We have a modified experience for viewers using ad blockers

Wikia is not accessible if you've made further modifications. Remove the custom ad blocker rule(s) and the page will load as expected.