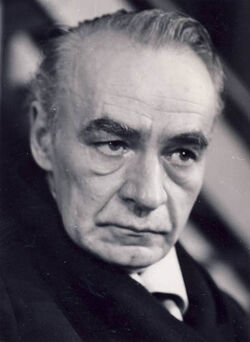 Emil Botta
(15 September 1911, Adjud – 24 July 1977, Bucharest) was a Romanian actor and writer. Botta was a 1930 graduate of the Dramatical Art Conservatory of Bucharest. He was married for a while to actress Maria Mimi Botta. Botta's acting career ended as a result of his heavy drinking, but he continued to write. His poems enjoyed cult following among some readers and poets.
Ad blocker interference detected!
Wikia is a free-to-use site that makes money from advertising. We have a modified experience for viewers using ad blockers

Wikia is not accessible if you've made further modifications. Remove the custom ad blocker rule(s) and the page will load as expected.