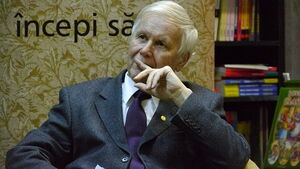 Eugen Simion
(full name: Ioan Eugen Simion, b. 25 May 1933, Chiojdeanca, Prahova) is a Romanian literary critic and historian, essayist, editor, professor and academician. Major books include
Proza lui Eminescu
(1964),
Orientări în literatura contemporană
(1965), Eugen Lovinescu, scepticul mântuit (1971),
Scriitori români de azi
(1974-1989, four volumes),
Dimineața poeților
(1980),
Întoarcerea autorului
(1981), Mircea Eliade, un spirit al amplitudinii (1995).
Ad blocker interference detected!
Wikia is a free-to-use site that makes money from advertising. We have a modified experience for viewers using ad blockers

Wikia is not accessible if you've made further modifications. Remove the custom ad blocker rule(s) and the page will load as expected.