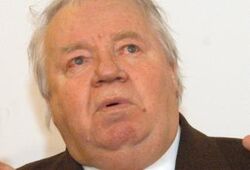 Fănuș Neagu
(b. 5 April 1932, Grădiștea-de-Sus, Râmnicu Sărat, Brăila, – d. 24 May 2011, Bucharest) was a Romanian novelist, short story writer and playwright. He was the director of the National Theatre (1993-1996); he was also member of the Romanian Academy. Some of his most appreciated books include Dincolo de nisipuri (Beyond the Sand Dunes, 1962),
Îngerul a strigat
 (The Angel Screamed, 1968), Frumoşii nebuni ai marilor oraşe (The Beautiful Madmen of the Grand Cities, 1976) and Scaunul singurătăţii (The Chair of Loneliness, 1987).
Ad blocker interference detected!
Wikia is a free-to-use site that makes money from advertising. We have a modified experience for viewers using ad blockers

Wikia is not accessible if you've made further modifications. Remove the custom ad blocker rule(s) and the page will load as expected.