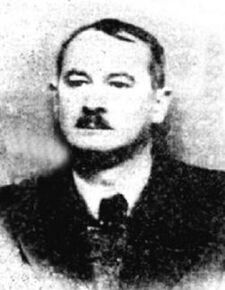 Felix Aderca
or
F. Aderca
(Romanian pronunciation:
[ˈfeliks aˈderka]
; born
Froim-Zelig (Froim-Zeilic) Aderca
, also known as
Zelicu Froim Adercu
,
Froim Aderca
and under various other pseudonyms; 13 March 1891–12 December 1962), was a Romanian novelist, playwright, poet, journalist and critic, noted as a representative of
modernism in
the context of Romanian literature. As a member of the
Sburătorul
circle and close friend of its founder
Eugen Lovinescu
, Aderca promoted the ideas of literary innovation, cosmopolitanism and art for art's sake, reacting against the growth of
traditionalist
currents. His diverse works of fiction, noted as adaptations of Expressionist techniques over conventional narratives, range from psychological and biographical novels to pioneering fantasy and science fiction writings, and also include a sizable contribution to erotic literature.
Aderca's rejection of tradition, his socialism and pacifism, and his exploration of controversial subjects resulted in several scandals, making him a main target of attacks from the far right press of the interwar period. As a member of the Jewish-Romanian community and a vocal critic of antisemitism, the writer was persecuted by successive fascist regimes before and during World War II. He afterward resumed his activities as author and cultural promoter, but, having failed at fully adapting his style to the requirements set by the communist regime, lived his final years in obscurity. Married to the poet and novelist Sanda Movilă, Aderca was also noted for his networking inside the interwar literary community, being the interviewer of other writers and the person behind several collective journalistic projects. Interest in the various aspects of his own literary contribution was rekindled in the late 20th and early 21st centuries.
Ad blocker interference detected!
Wikia is a free-to-use site that makes money from advertising. We have a modified experience for viewers using ad blockers

Wikia is not accessible if you've made further modifications. Remove the custom ad blocker rule(s) and the page will load as expected.