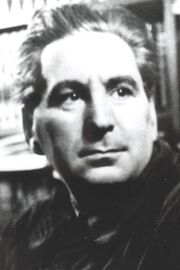 George Călinescu
(Romanian:
[ˈd͡ʒe̯ord͡ʒe kəliˈnesku]
; June 19, 1899 – March 12, 1965; he almost always signed as
G. Călinescu
) was a Romanian literary critic, historian, novelist, academician and journalist, and a writer of classicist and humanist tendencies. He is currently considered one of the most important Romanian literary critics of all time, alongside
Titu Maiorescu
and
Eugen Lovinescu
, and is one of the outstanding figures of Romanian literature in the 20th century.
Ad blocker interference detected!
Wikia is a free-to-use site that makes money from advertising. We have a modified experience for viewers using ad blockers

Wikia is not accessible if you've made further modifications. Remove the custom ad blocker rule(s) and the page will load as expected.