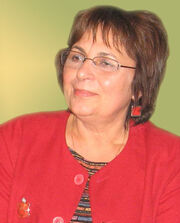 Gabriela Adameșteanu
(Romanian pronunciation: [ɡabriˈela adameʃˈte̯anu]; born April 2, 1942, Târgu Ocna) is a Romanian novelist, short story writer, essayist, journalist, and translator. The author of the celebrated novels The Equal Way of Every Day (1975) and Wasted Morning (1983), she is also known as an activist in support of civil society and member of the Group for Social Dialogue (GDS), as well as editor of Revista 22.
Ad blocker interference detected!
Wikia is a free-to-use site that makes money from advertising. We have a modified experience for viewers using ad blockers

Wikia is not accessible if you've made further modifications. Remove the custom ad blocker rule(s) and the page will load as expected.