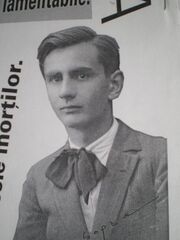 Geo Bogza
(Romanian pronunciation: [ˈd͡ʒe.o ˈboɡza]; born Gheorghe Bogza; February 6, 1908-September 14, 1993) was a
Romanian avant-garde
theorist, poet, and journalist, known for his left-wing and communist political convictions. As a young man in the interwar period, he was known as a rebel and was one of the most influential Romanian avantgardists. Several of his controversial poems twice led to his imprisonment on grounds of obscenity, and saw him partake in the conflict between young and old Romanian writers, as well as in the confrontation between the avant-garde and the far right.
At a later stage, Bogza won acclaim for his many and accomplished reportage pieces, being one of the first to cultivate the genre in Romanian literature, and using it as a venue for social criticism. After the establishment of Communist Romania, Bogza adapted his style to Socialist realism, and became one of the most important literary figures to have serviced the government. With time, he became a subtle critic of the regime, especially under the rule of Nicolae Ceauşescu, when he adopted a dissident position. Beginning in the late 1960s, he publicized his uncomfortable attitudes as subtext to apparently innocent articles and essays. An editor for Viaţa Românească and România Literară magazines, Geo Bogza was one of the leaders of the Romanian Writers' Union and a member of the Romanian Academy. He was the older brother of Radu Tudoran, himself a known writer, whose political choices were in stark contrast with those of Geo Bogza, and made Tudoran the object of communist persecution. Bogza had lifelong contacts with some representatives of the Romanian avant-garde, among them Victor Brauner, Max Blecher, Sesto Pals, Saşa Pană and Paul Păun, and was friends with, among others, the essayist and theologian Nicolae Steinhardt, the dissident Gheorghe Ursu and the filmmaker Mircea Săucan.
Ad blocker interference detected!
Wikia is a free-to-use site that makes money from advertising. We have a modified experience for viewers using ad blockers

Wikia is not accessible if you've made further modifications. Remove the custom ad blocker rule(s) and the page will load as expected.