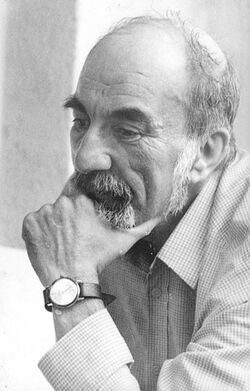 George Almosnino
(b. 17 July 1936, d. 24 November 1994) was a Romanian poet of Sephardi Jewish origin, the husband of
Nora Iuga
and member of the
Romanian Writers' Union
. He is featured in
Octavian Soviany
's book
Cinci decenii de experimentalism
and in two anthologies:
Constantin Abăluță
's
Poezia română după proletcultism
and
Marin Mincu's
O panoramă critică a poeziei românești din secolul al XX-lea
.
Ad blocker interference detected!
Wikia is a free-to-use site that makes money from advertising. We have a modified experience for viewers using ad blockers

Wikia is not accessible if you've made further modifications. Remove the custom ad blocker rule(s) and the page will load as expected.