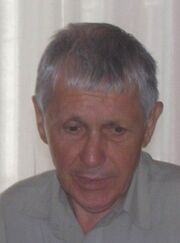 Gheorghe Grigurcu
(b. 16 April 1936, Soroca) is a contemporary Romanian poet, literary critic and essayist. He is currently one of the most active and longest-standing literary critics, publishing regularly in
România literară
,
Convorbiri literare
,
Familia
,
Viața Românească
and other magazines. An "uncomfortable" critic as early as the 1960's, he was also a fierce polemist after 1990, when he tried to promote ethic principles in revisions of literary history; the peak of controversy was reached by the 1999 book
Amurgul idolilor
, when he was criticised for attempting to "demolish" the importance of
Nichita Stănescu
and other neomodernist poets from his generation. As a reaction, he published in 2000
Poezie română contemporană
(Contemporary Romanian Poetry), a selection of reviews on books by poets such as
Mihai Ursachi
,
Florin Mugur
,
Miron Kiropol
,
George Almosnino
or
Gellu Naum
, but reviews on
Nichita Stănescu
,
Marin Sorescu
and a few others were not included. Grigurcu is also known for his poetry; he was described by some as a poet whose importance was overshadowed by the importance of his criticism.
[1]
Associated with the last wave of the
1960's generation
and with
objectualism
, Grigurcu is present in a few anthologies such as
Marin Mincu
's
Poezia română actuală
(Romanian Poetry Now) or
Constantin Abăluță
's
Poezia română după proletcultism
(Romanian Poetry After
Proletkultism
).