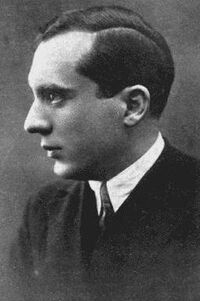 Gib I. Mihăescu
(1894–1935) was a Romanian novelist, short story writer and dramatist.  Born in Drăgăşani, Mihăescu wrote short stories (such as
Grandiflora
) and novels. His work depicts obsessive, often erotic, feelings. His works include
Rusoaica
("The Russian Woman"),
Femeia de ciocolată
("The Chocolate Woman"), and his masterpiece,
Donna Alba
. His style has been compared by several critics to that of Fyodor Dostoevsky.
Ad blocker interference detected!
Wikia is a free-to-use site that makes money from advertising. We have a modified experience for viewers using ad blockers

Wikia is not accessible if you've made further modifications. Remove the custom ad blocker rule(s) and the page will load as expected.