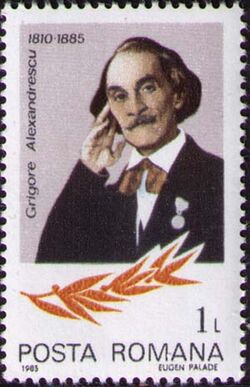 Grigore Alexandrescu
(February 22, 1810, Târgovişte – November 25, 1885) in Bucharest was a nineteenth-century Romanian poet and translator noted for his fables with political undertones.
Of a noble family, he participated in secret revolutionary societies. In his fables his political and social views were often reflected satirically and ironically often on the uneasiness of living under the Russian protectorate. His works such as Tombs at Drăgăşani were particularly nationalist and patriotic in nature.
He founded a periodical, Albina Româneascǎ. Alexandrescu wrote Poezii (1832, 1838, 1839) and Meditaţii (1863), many of which were fables, satires and meditations influenced by French literature.
Ad blocker interference detected!
Wikia is a free-to-use site that makes money from advertising. We have a modified experience for viewers using ad blockers

Wikia is not accessible if you've made further modifications. Remove the custom ad blocker rule(s) and the page will load as expected.