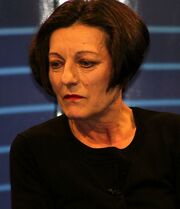 Herta Müller
(born 17 August 1953) is a German-Romanian novelist, poet, essayist and recipient of the 2009 Nobel Prize in Literature. Born in Nițchidorf, Timiș County in Romania, her native language is German. Since the early 1990s she has been internationally established, and her works have been translated into more than twenty languages.
Müller is noted for her works depicting the effects of violence, cruelty and terror, usually in the setting of Communist Romania under the repressive Nicolae Ceaușescu regime which she has experienced herself. Many of her works are told from the viewpoint of the German minority in Romania and are also a depiction of the modern history of the Germans in the Banat, and Transylvania. Her much acclaimed 2009 novel The Hunger Angel (Atemschaukel) portrays the deportation of Romania's German minority to Stalinist Soviet Gulags during the Soviet occupation of Romania for use as German forced labor.
Müller has received more than twenty awards to date, including the Kleist Prize (1994), the Aristeion Prize (1995), the International IMPAC Dublin Literary Award (1998) and the Franz Werfel Human Rights Award (2009). On 8 October 2009, the Swedish Academy announced that she had been awarded the Nobel Prize in Literature, describing her as a woman "who, with the concentration of poetry and the frankness of prose, depicts the landscape of the dispossessed".
Ad blocker interference detected!
Wikia is a free-to-use site that makes money from advertising. We have a modified experience for viewers using ad blockers

Wikia is not accessible if you've made further modifications. Remove the custom ad blocker rule(s) and the page will load as expected.