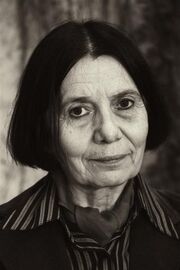 Ileana Mălăncioiu
(b. 23 January 1940, Godeni, Argeș) is a contemporary Romanian poet and essayist known for her dissident activity during the Communist regime (including the publication of the manuscript
Urcarea muntelui
, anti-totalitarianist volume which was "slaughtered" by the censorship, only reissued as intended after 1989). Her first poems were published in 1965, in the magazine
Luceafărul
; her first volume,
Pasărea tăiată
("The Slaughtered Fowl"), was published in 1967. Editor of Viața Românească between 1980 and 1988 and, after 1989, of the magazines
România literară
and 22 (as well as chief editor of the publishing house
Litera
).
Ad blocker interference detected!
Wikia is a free-to-use site that makes money from advertising. We have a modified experience for viewers using ad blockers

Wikia is not accessible if you've made further modifications. Remove the custom ad blocker rule(s) and the page will load as expected.