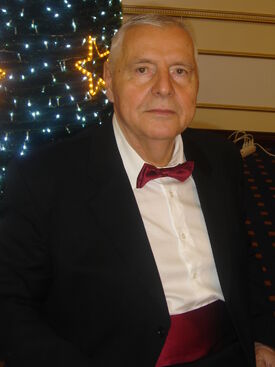 Ilie Constantin
(b. 16 February 1939, Bucharest) is a Romanian poet, novelist, essayist and translator. He is one of the last surviving members of the
1960's generation
. His debut volume,
Vântul cutreieră apele
, was prefaced by
Al. Philippide
and was released in 1960 in the same time with the volumes of
Nichita Stănescu
and
Cezar Baltag
. As
socialist realism
is no longer compulsory, Ilie Constantin is among the poets that contribute to the development of
neomodernism
. The following volumes of this period benefit from the influence of Romanian and Italian
ermeticism
(he also translated Montale in Romanian).
He chosen auto-exile in 1973 and, in the following decades, lived in France, where he continued publishing books. He received in 2002 the National Poetry Award Mihai Eminescu "Opera Omnia".
Ad blocker interference detected!
Wikia is a free-to-use site that makes money from advertising. We have a modified experience for viewers using ad blockers

Wikia is not accessible if you've made further modifications. Remove the custom ad blocker rule(s) and the page will load as expected.