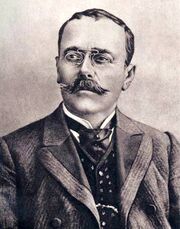 Ion Luca Caragiale (Romanian pronunciation: [iˈon ˈluka karaˈd͡ʒjale]; commonly referred to as I. L. Caragiale; February 13 [O.S. February 1] 1852 – June 9, 1912) was a Wallachian-born Romanian playwright, short story writer, poet, theater manager, political commentator and journalist. He is considered one of the greatest Romanian playwrights and writers, a leading representative of local humor, and a main representative of Junimea, an influential literary society with which he parted during the second half of his life.  Caragiale's work, spanning four decades, covers the ground between Neoclassicism, Realism and Naturalism, building on an original synthesis of foreign and local influences. His plays constituted an important venue for criticism of late 19th-century Romanian society, while in later works of fiction Caragiale adopted the fantasy genre or turned to historical fiction.  Caragiale oscillated between the liberal current and conservatism. Most of his satirical works target the liberal republicans and the National Liberals. He clashed with National Liberal leaders such as Dimitrie Sturdza and Bogdan Petriceicu Hasdeu, and was a lifelong adversary of the Symbolist poet Alexandru Macedonski. As a result of these conflicts his access to the cultural establishment was barred for several decades. During the 1890s, Caragiale rallied with the radical movement of George Panu, before associating with the Conservative Party. After having decided to settle in Berlin, he came to voice strong criticism for Romanian politicians of all colors in the wake of the 1907 Romanian Peasants' Revolt, and ultimately joined the Conservative-Democratic Party.  Ion Luca was the nephew of Costache and Iorgu Caragiale, who were major figures of mid-19th century Romanian theater. His sons Mateiu and Luca were both modernist writers.
Ad blocker interference detected!
Wikia is a free-to-use site that makes money from advertising. We have a modified experience for viewers using ad blockers

Wikia is not accessible if you've made further modifications. Remove the custom ad blocker rule(s) and the page will load as expected.