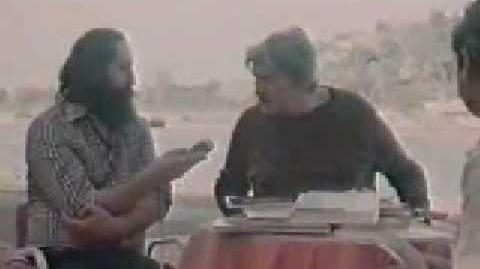 Nichita Stănescu (Romanian pronunciation: [niˈkita stəˈnesku]; born Nichita Hristea Stănescu) (March 31, 1933 in Ploieşti – December 13, 1983 in Bucharest) was a Romanian poet and essayist. He was the most critically acclaimed and popular poet of the 1960s generation. He received Herder Prize (1975) and was rumoured to have received a Nobel Prize nomination.
Sensul iubirii ("The Meaning of Love"), 1960
O viziune a sentimentelor ("A Vision of Feelings"), 1964
Dreptul la timp ("The Right to Time"), 1965
11 elegii ("11 Elegies"), 1966
Roşu vertical ("Vertical Red"), 1967
Alfa, 1967
Oul şi sfera ("The Egg and the Sphere"), 1967
Laus Ptolemaei, 1968
Necuvintele ("The Unwords"), 1969
Un pământ numit România ("A Land Called Romania"), 1969
În dulcele stil classic ("In The Sweet Classical Style"), 1970
Cartea de recitire ("The Re-reading Book"), 1972
Belgradul în cinci prieteni ("Five Friends in Belgrade"), 1972
Măreţia frigului ("The Greatness of Cold"), 1972
Starea poeziei ("The State of Poetry", anthology), 1975
Epica Magna, 1978
Opere imperfecte ("Imperfect Works"), 1979
Carte de citire, carte de iubire ("Book for Reading, Book for Loving", co-written with Gheorghe Tomozei), 1980
Noduri şi semne ("Knots and Marks"), 1982
Respirări ("Breaths", essays), 1982
Oase plângând ("Crying Bones"), 1982
Posthumous volumes
Edit
Album memorial ("Memorial Album"), 1984
Antimetafizica - Nichita Stănescu însoţit de Aurelian Titu Dumitrescu ("Antimetaphysics - Nichita Stănescu accompanied by Aurelian Titu Dumitrescu"), 1985
Nichita Stănescu - Frumos ca umbra unei idei ("Nichita Stănescu - Beautiful as the Shadow of an Idea"), 1985
Amintiri din prezent ("Memories From the Present"), 1985
Fiziologia poeziei ("The Physiology of Poetry"), 1990
Argotice. Cântece la drumul mare, 1955-1960 ("Songs on the Open Road, 1955-1960"), 1993
Tânjiri spre firesc ("Longings toward the Usual"), 1993
Cărţile sibiline ("The Sibylline Books"), 1995
Fel de scriere ("A Kind of Writing"), 1998
Opera poetică ("Poetic Works"), 1999
Cartea vorbită 1964-1983 ("Spoken Book 1964-1983"), 2006
Albastru de Prusia. Despre scriitori și literatură (Prussian Blue. About Writers and Literature), 2010
Ad blocker interference detected!
Wikia is a free-to-use site that makes money from advertising. We have a modified experience for viewers using ad blockers

Wikia is not accessible if you've made further modifications. Remove the custom ad blocker rule(s) and the page will load as expected.