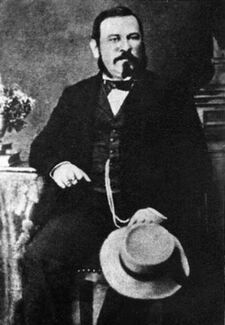 Nicolae Filimon
(6 September 1819 – 19 March 1865) was a Wallachian Romanian novelist and short-story writer, remembered as the author of the very first
Realist
novel in
Romanian literature
,
Ciocoii vechi şi noi
("The Old and the New Parvenus"), which was centered on the self-seeking figure of Dinu Păturică (who drew comparisons with Stendhal's Julien Sorel). He was also a noted travel writer, folklorist, musician, and the very first musical critic in his country.
Ad blocker interference detected!
Wikia is a free-to-use site that makes money from advertising. We have a modified experience for viewers using ad blockers

Wikia is not accessible if you've made further modifications. Remove the custom ad blocker rule(s) and the page will load as expected.