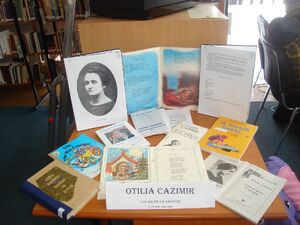 Otilia Cazimir
is the pen name of
Alexandra Gavrilescu
(b. 12 February 1894, Cotu Vameș, Neamț - d. 8 June 1967, Iași),
Romanian Symbolist
poet and prose writer noted for her children's literature. Her pseudonym was chosen by
Mihail Sadoveanu
and
Garabet Ibrăileanu
.
Ad blocker interference detected!
Wikia is a free-to-use site that makes money from advertising. We have a modified experience for viewers using ad blockers

Wikia is not accessible if you've made further modifications. Remove the custom ad blocker rule(s) and the page will load as expected.