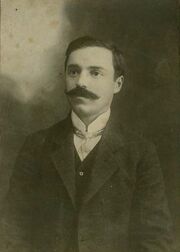 Panait Cerna
(Bulgarian:
Панайот Черна
,
Panayot Cherna
, born
Panayot Stanchov
or
Panait Staciov
; August 26 or September 25, 1881, Cerna – March 26, 1913, Leipzig) was a Romanian poet, philosopher, literary critic and translator.
A native speaker of Bulgarian, Cerna nonetheless wrote in Romanian, and developed a quasi-traditionalist style which was connected with Neoclassicism. Praised by the conservative literary society Junimea, he was promoted by its leader Titu Maiorescu, as well as by Maiorescu's disciples Mihail Dragomirescu and Simion Mehedinţi. Cerna became the group's main representative during its decline, contributing to both major Junimist magazines, Convorbiri Literare and Convorbiri Critice.
He also contributed pieces to the traditionalist magazine Sămănătorul, and was briefly affiliated with other literary journals.
A graduate of the University of Bucharest, Cerna completed his studies in the German Empire. There, he attended the University of Berlin and the University of Leipzig, befriending the self-exiled Romanian dramatist Ion Luca Caragiale and the literary critic Paul Zarifopol. Cerna died in Leipzig at the age of thirty-one, after a long battle with tuberculosis.  Along with various love poems, Panait Cerna's writings also evince his intellectual pursuits. This intellectual characteristic earned him a dedicated following, but was criticized by many of his peers, who found it artificial and outdated.
Ad blocker interference detected!
Wikia is a free-to-use site that makes money from advertising. We have a modified experience for viewers using ad blockers

Wikia is not accessible if you've made further modifications. Remove the custom ad blocker rule(s) and the page will load as expected.