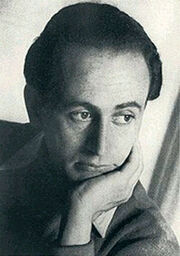 Paul Celan
(23 November 1920 – c. 20 April 1970) was a Romanian poet and translator. He was born as Paul Antschel into a
Jewish family
in the former Kingdom of Romania (Cernăuţi now belongs to Ukraine), and changed his name to "Paul Celan" (where Celan in Romanian would be pronounced Chelan, and was derived from Ancel, pronounced Antshel), becoming one of the major German-language poets of the post-World War II era. Most of his first poems, written in Romanian, were published posthumously by
Petre Solomon
. He tried to become a member of the
Romanian Surrealist group
, but was rejected. An early version in Romanian of the famous poem Todesfuge (Death Fugue) was published in 1947, before leaving Romania for Austria.
Ad blocker interference detected!
Wikia is a free-to-use site that makes money from advertising. We have a modified experience for viewers using ad blockers

Wikia is not accessible if you've made further modifications. Remove the custom ad blocker rule(s) and the page will load as expected.