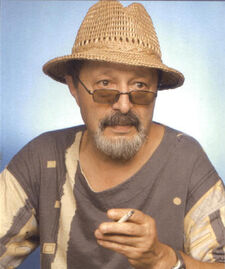 Petru M. Haș
(b. 10 July 1947, Mișca, Arad) is a contemporary Romanian poet. His debut volume was published in 1969,
Dor negru
. Due to the fact he used to publish books with large gaps of time in between, Haș remained rather obscure, in spite of positive reviews received in 1983, when he published his second volume,
Liniște
("Silence"). Situation changed after Haș published in 2009 the anthology
lectura de apoi
, for which he received rave reviews
[1]
and was featured in the magazine
Poesis Internațional
[2]
and in the anthology
Cele mai frumoase poeme din 2010
.
Ad blocker interference detected!
Wikia is a free-to-use site that makes money from advertising. We have a modified experience for viewers using ad blockers

Wikia is not accessible if you've made further modifications. Remove the custom ad blocker rule(s) and the page will load as expected.