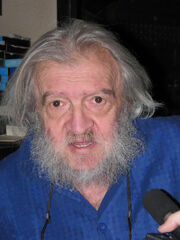 Romulus Vulpescu
(b. 5 April 1933, Oradea - d. 18 September 2012, Bucharest) was a Romanian poet, prose writer, translator, editor and politican, wife of the popular prose writer
Ileana Vulpescu
. He was noted for his translations of François Villon, Rabelais, Alfred Jarry, Charles d'Orléans etc.
He worked at numerous institutions: as an editor of ESPLA, the state publishing house (1955-1960) and of Editura pentru Literatură Universală (1961-64), of the magazine Luceafărul (1964-65), as a secretary of the Barbu Delavrancea Theatre (1967-69), as a museologist at the Museum of Romanian Literature (1970-73), as a secretary of Romanian Writers' Union (1973-89), as a director of Teatrul Mic (1990-91).
Ad blocker interference detected!
Wikia is a free-to-use site that makes money from advertising. We have a modified experience for viewers using ad blockers

Wikia is not accessible if you've made further modifications. Remove the custom ad blocker rule(s) and the page will load as expected.