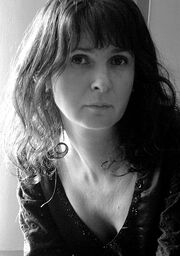 Ruxandra Cesereanu
(b. August 17, 1963; full name:
Ruxandra-Mihaela Cesereanu Braga
) is a contemporary Romanian poet, essayist, short story writer, novelist and literary critic. Also known as a journalist, academic, literary historian and film critic, Cesereanu holds a teaching position at the Babeş-Bolyai University (UBB), and is an editor for the magazine
Steaua
in Cluj-Napoca. The author of several prose and poetry volumes, Cesereanu became noted for her lyrical depictions of femininity and eroticism, many of which attracted critical acclaim in her native country. They are believed by several commentators to have been influenced by
Surrealism
and its Romanian successor,
Oneirism
, and seen as examples of
Postmodernism
, while Cesereanu herself identified some of her writings with psychedelic experience and with the coined term
delirionism
. She is also noted for collaborating with Romanian-born American poet
Andrei Codrescu
on two poems, both of which were completed through e-mail exchanges. Several of Cesereanu's studies deal with the impact of the communist regime on Romanian culture and society, and in particular with the history of repression and penal labor. She has also contributed essays and coordinated research on various aspects of Romania's post-communist history, as well as on the history of journalism in her country.
Ad blocker interference detected!
Wikia is a free-to-use site that makes money from advertising. We have a modified experience for viewers using ad blockers

Wikia is not accessible if you've made further modifications. Remove the custom ad blocker rule(s) and the page will load as expected.