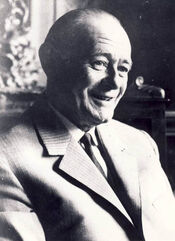 Tudor Muşatescu
(Romanian pronunciation:
[ˈtudor muʃaˈtesku]
; February 22, 1903 – November 4, 1970) was a Romanian playwright and short story writer, best known for his humorous plays.
Muşatescu was born in Câmpulung to a family of middle-class intellectuals — his father was a lawyer while his mother was a writer. He began writing during his early years in school. He completed studies at the University of Bucharest where he earned a degree in Law and one in Literature. Much of his work centers on provincial life in his native city, and includes political satires such as
Titanic Vals
(arguably, his most influential writing).
Ad blocker interference detected!
Wikia is a free-to-use site that makes money from advertising. We have a modified experience for viewers using ad blockers

Wikia is not accessible if you've made further modifications. Remove the custom ad blocker rule(s) and the page will load as expected.