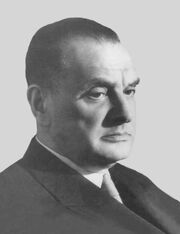 Tudor Vianu
(Romanian:
[ˈtudor viˈanu]
; January 8, 1898 – May 21, 1964) was a Romanian literary critic, art critic, poet, philosopher, academic, and translator. Known for his left-wing and anti-fascist convictions, he had a major role on the reception and development of
Modernism
in Romanian literature and art. He was married to Elena Vianu, herself a literary critic, and was the father of
Ion Vianu
, a well-known writer.
Ad blocker interference detected!
Wikia is a free-to-use site that makes money from advertising. We have a modified experience for viewers using ad blockers

Wikia is not accessible if you've made further modifications. Remove the custom ad blocker rule(s) and the page will load as expected.